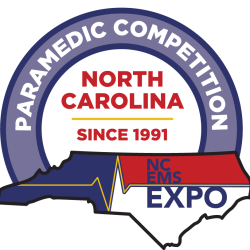 2023 Paramedic Competition finals held at Expo!
The Office of Emergency Medical Services, North Carolina College of Emergency Physicians, and North Carolina Association of EMS Curriculum Educators conducted the 31st Annual Paramedic Competition on April 30, 2023, at the Four Seasons Convention Center in Greensboro, NC.  The winning teams from 5 regional preliminary sites competed against the 2022 defending champions.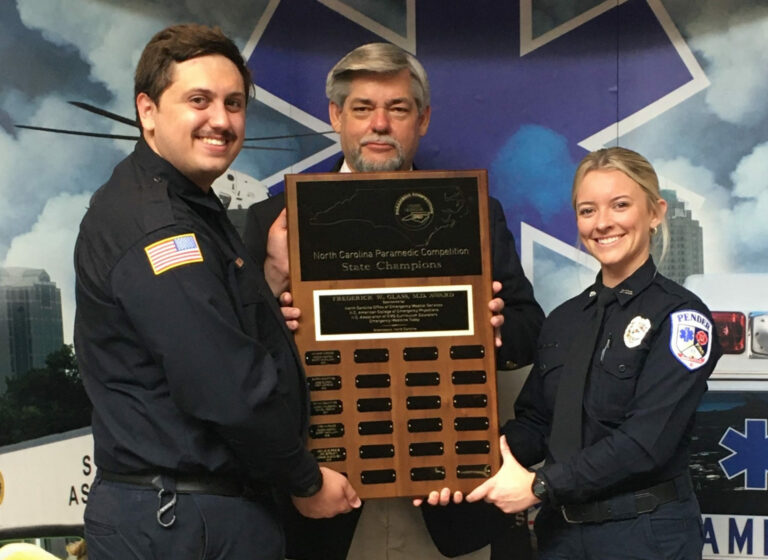 2023 North Carolina Paramedic Competition Champions!
Pender EMS and Fire Inc.
McKenzie Shipp and Owen Feest
Overview of the NC Paramedic Competition
The North Carolina Paramedic Competition has been challenging participants since 1991. Every year two-person paramedic teams compete at 5 regional preliminary sites across the state with the winners earning the opportunity to advance to the finals held at the NCOEMS annual EM Today Conference. Teams are graded on professionalism, didactic knowledge and their clinical management as they face realistic scenarios, environments and simulations within a set time limit. The competition gives teams the opportunity to represent their agency on a statewide platform, and their hours of training improve the quality of patient care provided in their communities, benefiting the citizens and guests of North Carolina.
Two person teams are registered by a North Carolina paramedic provider agency and compete in the preliminary competition.  All entrants must be currently credentialed as a North Carolina paramedic and must remain affiliated with the agency which submitted their registration.
At the Preliminary Competition site teams are judged and scored in three categories: a practical scenario, a short written examination, and professionalism. Standing orders are assumed for all treatments for the scenario.  The lead Judge will answer questions during the scenario, but will only confirm requested orders even though the requested order may be incorrect.
Judging criteria for the competition include the NC Medical Board Approved EMS Skills/Medications, PALS/PEPP Standards, US DOT NHTSA National EMS Education Standards, ACLS Standards, BCLS Standards, NC OSHA Standards, ITLS/PHTLS Standards, and 2022 NCCEP Standards for Medical Oversight and Data Collection.
Teams receiving the highest cumulative score at each of the five preliminary sites will advance to the finals along with the returning state champions from the previous year.  The finals are held at the Expo in Greensboro, NC. The public is invited to attend the final competition.
Paramedic Competition judges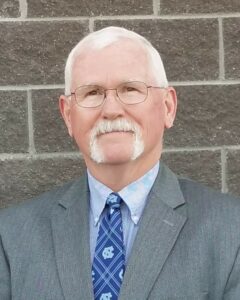 John's experience spans over 40 years of fire service,  EMS, prehospital education,  hospital ICU and air medical transport leadership. He currently serves as a member of the NC OEMS Advisory Council representing the air medical and critical care transport industry. In January of 2022 he retired from Mission Health in Asheville as the Supervisor of Air Medical Services and remains active in EMS education at Asheville Buncombe Technical Community College. John, and his wife Gail, live in Weaverville NC where they enjoy gardening along with raising animals and bees. 
Paramedic Comptetition Medical Directors
At the core of our competition has always been a dedicated physician Medical Advisor. Physician input is imperative to assure that clinical presentations are complex, realistic and accurate.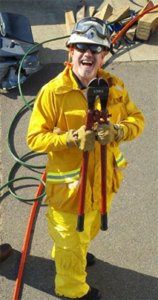 Dr. Roy Alson is a Professor of Emergency Medicine at Wake Forest University and Medical Director for Forsyth County EMS. He was the initial Medical Advisor for the Competition and along with Ron Lewis and a number of evil minded EMS personnel, developed the scenarios for the competition from its inception until he stepped down after 15 years of participation.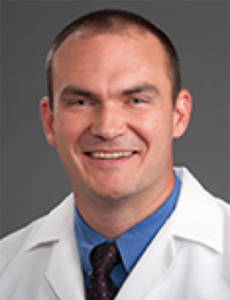 Emergency Medical Services has been a major part of my professional life. I started as a street medic, then advanced to EMS director before I went to medical school. During my medical school and residency training I continued to explore my love for EMS. After graduation, I entered private practice at a community hospital and quickly became the county's EMS Medical Director. I have enjoyed this role for nearly 12 years and been actively involved in everything from Tactical Medical Support to curriculum development for the Community Paramedic Program. During this time we have continued a great tradition of excellent patient care provided to our citizens through 911 Emergency Response, Disaster Preparedness, Aeromedical and Critical Care Transport.
In 2013, I accepted an academic position with Wake Forest Baptist Health with a concentration in Emergency Medical Services. Shortly after this, I was honored to accept the position of EMS Medical Director for an additional county service. As a Board-Certified EMS Physician, I look forward to continuing to advance the care that paramedics provide their communities both during emergencies and in disease prevention.
Dr. Stopyra was the Medical Advisor for the NC Paramedic Competition from 2005 until 2016.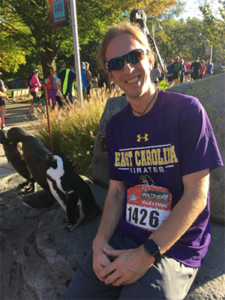 Bryan B. Kitch, MD, FAEMS
Bryan began his medical career in the early 2000's working volunteer and paid fire/ems in central Pennsylvania.  He attended medical school in Albany NY and moved to eastern NC in 2011.  He completed his residency and fellowship at East Carolina University.  Currently board certified in Emergency Medicine and EMS, he serves as an Assistant Professor for ECU Emergency Medicine. Bryan is the EMS medical director for Hyde County, Assistant Medical Director for Pitt and Beaufort County.  He also serves as the Eastern Healthcare Coalition SMAT medical director.
Dr. Kitch has been the NC Paramedic Competition Medical Advisor since 2016.
1991
Surry County EMS
Billy Haynes
Kirk Killon
1992
Durham County EMS
Kathy Valone
Warren Swanson
1993
Polk County EMS
Monica Barrett
Mike Willis
1994
Forsyth County EMS
Daren Ziglar
Robert Bednar
1995
Forsyth County EMS
Daren Ziglar
James Smith
1996
Halifax County EMS
Michael Dixon
Phil Ricks
1997
Caldwell County EMS
Tommy Courtner
Terry Handy
1998
Surry County EMS
Robert Coleson
Sean Gibson
1999
Surry County EMS
Sean Gibson
Robert Coleson
2000
Davidson County EMS
Kelly Kirk
Shane Wilkins
2001
Dunn Rescue Squad
Anthony Davis
Richard Stump
2002
Stanly County EMS
Shane Lisenby
Austin Nabet
2003
Stanly County EMS
Shane Lisenby
Austin Nabet
2004
Forsyth County EMS
Tim Black
Mike Maher
2005
Stokes County EMS
Fred Lawson
Scott Brown
2006
Stanly County EMS
Austin Nabet
Shane Lisenby
2007
Stokes County EMS
Scott Brown
Fred Lawson
2008
Stokes County EMS
Scott Brown
Fred Lawson
2009
Surry County EMS
Roger Horton
Barry McMillian
2010
Surry County EMS
Roger Horton
Barry McMillian
2011
Cabarrus County EMS
Mark Kirk
Jeffrey Penninger
2012
LeLand Fire and Rescue
Michael Herbert
Chris Watford
2013
LeLand Fire and Rescue
Michael Herbert
Chris Watford
2014
Rowan County EMS
Aaron Thurston
Daniel Medina
2015
WFUBMC AirCare
Roger Horton
Barry McMillian
2016
Surry County EMS
Jose Butron
Josh LeCrone
2017
Rowan County EMS
Daniel Medina
Aaron Thurston
2018
WFBMC AirCare
Roger Horton
Barry McMillian
2019
Mecklenburg EMS Agency
Michael Dudkowski
John Stroup III
2020
*Cancelled Due to COVID
2021
*Cancelled Due to COVID
2022
Mecklenburg EMS Agency
Michael Dudkowski
John Stroup III
2023
Pender EMS and Fire Inc.
McKenzie Shipp
Owen Feest
Competition Partners
The North Carolina Office of EMS would like to recognize the following for their dedication and commitment to our competition.
Catawba Valley Community College
Johnston Community College
Surry Community College
Fayetteville Technical Community College
Brunswick Community College
Guilford Technical Community College
Guilford County EMS
WakeMed Center for Innovative Learning